Tá poll ag Seán an Feirmeoir ina chuid buataisí. As go brách leis chun péire nua a cheannach.
Ach céard a cheapfaidh na hainmhithe nuair a fheicfidh siad a bhuataisí nua?
Eachtra breá taitneamhach do pháistí óga 6-10.
A hole in one of his wellies means Séan the Farmer has got to go and get new boots.
But what will the animals think of his startling choice of colour?
Another charming tale for young children (6-10) by Heather Henning with beautiful illustrations by Rikki O'Neill.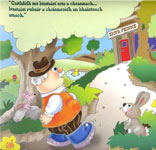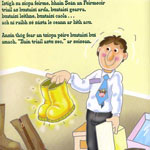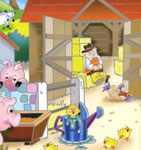 | | |
| --- | --- |
| Údar / Author: | Heather Henning |
| Maisitheoir / Illustrator: | Rikki O'Neill |
| ISBN: | 978-1-899922-71-0 |
| Foil. / Publ.: | 2011 |
| Praghas / Price: | €9.00 |
| 28 lch. / pp: | Lándaite / Full Colour |
| Leitheoirí: | Age 6 - 10 |